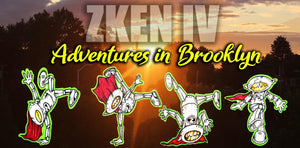 ZKEN4 NONVIOLENT COMIC BOOKS
---
Adventures in Brooklyn the first volume to zken4 a series of comic books.
A collection of non violent non toxic comic book entertainment for children ages 6 and up. Set in the 1980's zken4 and the kids have unbelievable adventures in all the  volumes Hip Hop Dancing graffiti art and more......                                    
                                                Our zken 4 series will debut here.