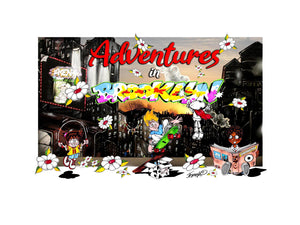 ZKEN4 AIB PRINTS.
Zken IV Adventures in Brooklyn is about a little robot that Crash lands on earth & is befriended by 3 amazing kids as they have adventures all through out Brooklyn. This is a children's comic book with all the right elements to become an instant classic. Say hello to zken4 and have an adventure today. Our books are good for all ages.

PAPERBACK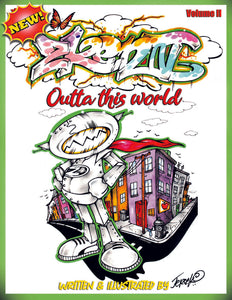 Zken4 outta this world.
Our second volume of the series zken4's adventures with Jamal Martika and Sonny continue with a few new surprises.
Coming in spring 2024.
ZUN BACKPACKS
ZKEN CELL PHONE CASE COLLECTION
A LINE OF CELL COVERS TO PROTECT YOUR WHOLE CELL PHONE IN THE HIP HOP FLAVA WE ALL LOVE.
ZKEN CELL CASES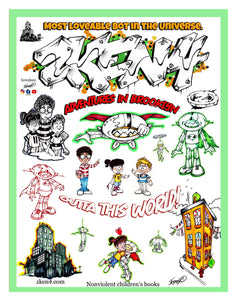 Zken4 AIB is the start of a series a collection of children's comics with no sexual undertones, violence, crime, guns, explosions or deaths. We like to classify our brand of entertainment as non toxic to a young mind in actuality we do the opposite by putting lessons and scholastics in all of our volumes with the understanding that it's for children so all those other additives just don't make much sense to us. it's a pleasure to create these books for all the kids of the world.......... jerock